BLOWER DOOR TESTING
Testing is a way to measure the "leakiness" of a home. We can effectively assess how much energy (and money) is escaping through air leaks, and how much can be saved by fixing those leaks.
STAND-ALONE SERVICE
We offer blower door testing as an isolated service to provide homeowners and contractors with a roadmap to further improve a home's efficiency moving forward.
ENERGY SAVINGS
In addition to being a critical component of a whole house energy audit, blower door testing is required for many green building and energy efficient building standards nationwide.
Blower Door testing code Requirements
If you need Blower Door Testing in Jacksonville, Florida…call Misteraire! 
As per Florida Building Code sections R402.4.1.2 and R104.5, a mandatory blower door test must be performed by either individuals as defined in Section 553.993(5) or (7), F.S. or individuals licensed as set forth in Section 489.105(3)(f), (g), or (i) or an approved third party.
Each building must have 7 air changes per hour (7 ACH50) or less in order to successfully pass the Blower Door test.
Blower Door tests simulate the wind blowing against a building at 20 miles per hour, in which case the total volume of air within the house would be exchanged with outside air 7 times.  The 20mph wind is equivalent to 50 Pascals (Pa) of pressure difference.  A Blower Door Fan simulates these conditions during a test.
All buildings are tested at 50 Pa pressure difference to allow for comparisons to be made between homes/structures, no matter the size or plan type.  In the State of Florida, buildings which comprise of 3 stories or less must follow the building code with respect to these tests.


What is the purpose of blower door testing?
A blower door test uncovers leaks in a building. When it comes to energy-saving techniques, some work faster than others; however, blower door testing is one of the fastest and most cost-effective to perform. The return on investment is quick, whereas other energy efficiency enhancements take years to pay back! MisterAire are blower dorr testing experts in Jacksonville, FL.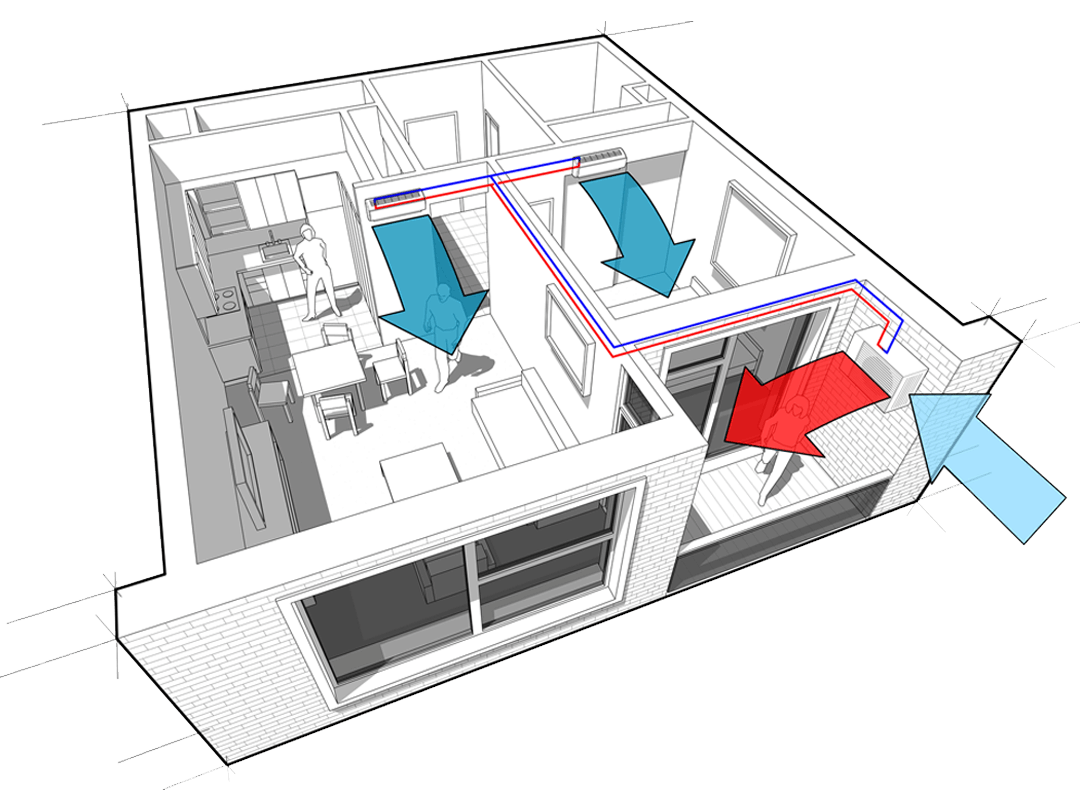 Blower Door Test Benefits:
Lower utility costs

More energy efficiency

Reduce uncomfortable areas of your home

Learn how much ventilation you need to improve your indoor air quality

Get healthier when your indoor air quality increases
Frequently asked questions
Mister Aire is committed to exceeding your needs. Questions, comments or special requests? We'd love to hear from you, so don't hesitate to reach out today.
What is a blower door test?
Blower doors are used to measure the "air-tightness" of a home. In the 2015 and 2012-IECC, a maximum air leakage rate was defined and every home must meet set requirements with a blower door test performed by a certified professional.
How does a blower door test work?
The blower door is a powerful fan that mounts on the frame of an exterior door. The fan pulls air out of the house, lowering the overall air pressure inside. The higher outside air pressure is then allowed to flow in through any unsealed cracks and openings. These tests are used to determine the overall air "infiltration rate" of a building.
When do you perform a blower door test?
Blower door tests are usually performed at the end of construction projects, after basically anything that would be an unwanted leak needs to be sealed.
When our company performs blower door testing, rather than simply issuing a pass or fail, we will help to determine where the leaks are coming from.
Who can perform blower door testing?
Only licensed/accredited professionals and/or contractors (such as ourselves) are allowed to perform blower door tests.
What is your service area?
We currently service all of North-East Florida and South Georgia.
Mister Aire is a leader in providing all types of inspection services and Blower Door Testing in Jacksonville and North-East Florida / South Georgia. Mister Aire uses the latest technology to provide our customers with the most accurate readings available.